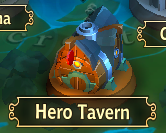 In the Hero Tavern you can both hire new heroes and complete bounties for extra rewards!
Hero Hire
You are able to hire new heroes in the Hero Hire. You will only be able to recruit one hero per specific Fame Level and hiring becomes more expensive after each hire, so think carefully which hero you deem to be most important to recruit first!
Bounty Board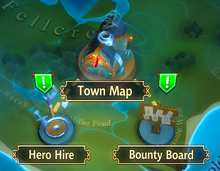 Bounties vary in difficulty and time, from 1 star to 5 stars. You may choose any hero you deem to be fit, however, using the superior element will increase the chance to pull a bonus loot, gems!
Ad blocker interference detected!
Wikia is a free-to-use site that makes money from advertising. We have a modified experience for viewers using ad blockers

Wikia is not accessible if you've made further modifications. Remove the custom ad blocker rule(s) and the page will load as expected.