Welcome to the BattleHand Wikia
BattleHand is an addictive and free-to-play 3D RPG for mobile. The game was developed by Another Place Productions and published by Kongregate. It is available on Google Play and the App Store . This wikia is a collaborative resource for the game and is maintained by the contributions of the fans. Feel free to use our forums to discuss gameplay. All editors are welcome. Come join our community!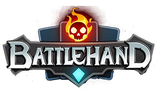 Join the battle! Recruit your team of heroes, lead powerful attacks, and defeat the evil minions of Queen Amethyst in this addictive and free to play 3D action RPG! The dreaded Queen has awoken and with her, the foul creatures that lie beneath the peaceful land of FellCrest. But all is not lost! The forgotten heroes of this land who had long ago put up their swords and bows are back and ready to fight in pursuit of honor and justice!
Areas

Inventory Items

Heroes

Battle Cards

Booster Cards

Status Effects
Ad blocker interference detected!
Wikia is a free-to-use site that makes money from advertising. We have a modified experience for viewers using ad blockers

Wikia is not accessible if you've made further modifications. Remove the custom ad blocker rule(s) and the page will load as expected.